---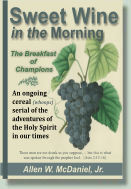 Our ministry is to reach out to the world with the Good News of Jesus Christ and to help believers be equipped with a solid knowledge of the Word of God, the Bible, and be encouraged to apply it in every aspect of their daily lives. There are simple truths for these complex times to help people live in a way that brings real spiritual victory to them and more importantly, through the Lord Jesus Christ, glory to God our Father.

1 Corinthians 2:9-10
But, as it is written, "Things which eye has not seen, nor ear heard, and which has not entered the heart of man, all that God has prepared for those who love him." For to us God has revealed them through the Spirit; For the Spirit searches all things, even the depths of God.
Our drive from Jackson, Tennessee to Texarkana, Texas yesterday was uneventful, starting with snow flurries and ending with sunshine. We arrived in Texarkana as scheduled, in time to take care of some business with banking and other chores locally.

We will make the last leg of this part of the journey arriving at our destination in West Tawakoni outside of Dallas in the late morning today. We will be staying with Alice's sister and we are looking forward to some good fellowship and ministry with her and other brothers and sisters during our stay there, Lord willing. The only downside is a lack of Internet there, so our communication may be a bit spotty.

A Consuming Obsession

Loving the Lord with ALL of our hearts, as we are commanded to do, will result in a consuming obsession with Him. It will cause us to have a total focus on God our Father, His son Jesus Christ, and the things of the Spirit. It will also bring down a holy fire to purify our hearts.

Join the discussion on Facebook :: Play video here or view Program Guide

Completely Satisfied

The world promises it in a million ways, and it fails in every one of them. The Lord desires that you get the desires of your heart, but of course He wants to be the desire of your heart. Not one promise that He has promised has failed to come to pass!

Play video at right or click here for entire Bible Bite library
---
A Simple Thought

- TIME -
Should you live another hundred years, today
is the very last, the only,
that you will ever have!
bbY

Therefore be careful how you walk, not as
unwise men but as wise, redeeming the
time because the days are evil
(Ephesians 5:15-16)